MORE EXPERIENCE. BETTER OUTCOMES.
Vehicular Manslaughter
Free Initial Consultation for all Criminal Defense Cases and Payment Plans for Most Criminal Defense Cases in These Top Banners.
Vehicular Manslaughter Cases in El Paso
Negligent car accidents resulting in the death of another driver, passenger or pedestrian can leave the negligent driver facing serious criminal charges. Vehicular manslaughter and negligent homicide are particularly serious offenses, and if they are not handled by an experienced attorney then the accused could end up in a bad spot.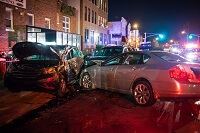 Ruben Ortiz is a highly experienced trial lawyer who has a proven track record handling assault and other violent crimes in Texas. He fights for his clients until the end, regardless of the circumstances of the case. As your advocate, he will explain the legal process ahead of you and what you can expect. You will never be left in the dark when you work with the Law Offices of Ruben Ortiz.
Negligent Homicide/Vehicular Manslaughter
One of the first steps in a vehicular manslaughter case is to look at the evidence of the accident and the circumstances surrounding the situation. That is exactly what Ruben Ortiz does. He asks questions, uses resources and does whatever it takes to build a strong defense strategy. Did the driver run a red light? Were there other cars involved? Who saw the accident? These are all questions that could lead to evidence that could be greatly beneficial to your case.
When your case is in our hands, we hit the ground running. We begin to work toward getting a dismissal, and we try to mitigate the consequences. At trial, we are prepared to do whatever is necessary to protect your rights.
Contact Our Law Office — Located in El Paso
---
Choose to work with Ruben Ortiz and have someone on your side who is dedicated to fighting for you. Call us today to schedule a free criminal defense consultation at (915) 308-8850. You can also contact us online. We offer free bond reductions for existing clients, and affordable payment plans.
---
Your Well-Being Is Our #1 Priority
CLIENT TESTIMONIALS
Trusted People

Oliver T.

He got my case dismissed.

Jorge Medina

Got it dismissed when it could have easily ruined my future

David
AN ADVOCATE YOU CAN TRUST Reasons to Choose Ruben Ortiz
Tens of Thousands of Individuals Represented Before State & Federal Courts

Fighting for His Clients Since 1998

Strong & Trusted Advocate for His Clients

Exceptional Track Record of Success

Best of El Paso 2021-2022 | Personal Injury Law Office

Best of El Paso 2022 | Criminal Law Office
Solutions Start with a Conversation CONTACT US TODAY